The 3o4.
The Dub.Vee.
West "by God" Virginia.
The 2011 Greenbrier Classic.
Virginia Tech Hokie Brendon de Jonge, 2010 Greenbrier Classic bronze medalist and third place finisher.
Virginia Tech Hokie Johnson Wagner, 2011 Mayakoba Golf Classic winner.
Exemption entry Drew Weaver of Burnt Orange & Chicago Maroon fame.
D-day or default-day looming large and in charge.
Let's hit from the blue tees for a change.
The Old White Course is of a moderate if not shallow length as tee to green yardage goes. Although it has been modified to 7,218 yards for the 2011 Greenbrier Classic, its fairways are still among the widest on Tour. This puts a premium on playing a long-range game as the longer hitters will enjoy the luxury of swinging a mid to short-iron stick after crushing a mega long distance drive. The Old White Course itself was built in 1914, making it the oldest PGA tour stop on the professional circuit.
Last year a sizzling eight players finished -15 or better. To make matters all the more striking, a whopping 50, yes that's fiddy, finished -10 or better!
Hold onto your scorecard; this one is made to order as low digits go.
Out in 34
In in 36
Total=70 strokes to par
Here are your 2011 hometown Hokies and their odds on winning:
(third place, tied for 6th) Brendon de Jonge: $872,223

611 FedEx Cup points:  (55th)
Odds to win: 44:1
Driving Distance: 119th
Greens in Regulation: 108th
Putting: 16th
loves to fish the New River
surname pronounced: "Dee-Yong"
favorite Blacksburg hang-out: "Big Al's"
Big husky looking kid; which belies his shorter than expected tee-to-fairway game. More parts putting and course management than raw power.
(tied for 96th) Johnson Wagner: ($966,064)

486 FedEx Cup points (81st)
Odds to win: 215:1
Driving Distance: 164th
Greens in Regulation: 41st
Putting: 119th
In a bit of a slump of late, although having a career year overall with a breakthrough win in the third event of the season at the Rivera Maya, yes Maya course down in Mexico. No habla second.
(tied for 94th) Drew Weaver: ($17,732)

0 FedEx Cup points (n/a)
Odds to win: 515:1
Drew won the British Amateur in 2007 and notched a Candy for a Cure Classic e-Golf Tour win in 2010. Granted an exemption to play in the 2011 Greenbrier Classic.
Loading ...
As the weather is expected to be sunny and dry all week up here in White Sulphur Springs West Virginia, look for the Old White Course to dry out more than a little bit which will put an even greater premium on the longer hitters and upon fairway to green work and putting alike as these Old White greens will only speed up as the course drys out as the weekend moves along.
Such was indeed the case as nearly all the low scores were posted this morning before the wind kicked up just a notch and the course began to dry out a bit.  This quicken the putting pace and simultaneously limited approach accuracy for those starting in the afternoon, where all three Hokies began their day.
During the first round, both Weaver and Wagner scuffled their way around the Old White Course with only two birdies among them. Both are in danger of the Top-70 and ties cut-line which prematurely projects to right around one over or +1; give or take. Brendon de Jonge however is another matter all together. He opened quickly and got his putter going on the front-9 in fine fashion with birdies on two of his opening three holes, and four of his first eight holes overall. Brendon's approach shots were not quite so stiff on the back-9; although he did birdie 15, rallying on the championship holes after taking his only boggy of the day on the thirteenth green. Par golf on the back-9 here at the Greenbrier is no bad thing; what with brand new slicker greens which offer a much more challenging approach shot than the spongy "target golf" greens of last season did.
Accordingly, at the close of White Sulphur Springs business hours on Thursday, Mr. de Jonge was only two shots off the pace at -4, with Trevor Immelman setting the pace at -6.
Click me for all the 2011 Greenbrier Classic up to the minute scoring:
I'll be back later in the week with more from the Greenbrier Classic as play progresses. S.P.F. 55 willing, as we all cheer a Hokie to a VicTory in the only West Virginia P.G.A. tour-stop. Check back for daily updates on how our three beloved Hokies are doing here at the Greenbrier accordingly.
Friday Evening update:
2 outta 3 ain't bad; as two Hokies made the Cut at the 2011 Greenbrier Classic, with one of 'em in first-place of all things!
Johnson Wagner kept things close to the cup and rallied for a nifty -3 or three under par 67 on
the day. 5 birdies and nothing other than par golf in your final 10 holes when you were actually three full strokes over the cut line is some damn clutch shooting in my book. Johnson is now officially in the money and he can pocket some nice ¢hange if he can maintain his Friday form over the weekend. Drew Weaver however was not so efficacious with his sticks as his clubbed and chunked his way to a unsavory 76 or +6 on the day. Drew's weekend is done, and yet here's wishing a good guy well and hoping he gets another Tour exemption before the season ends so that he might still yet play his way into carrying a full fledged Tour card for 2012.
Brandon de Jonge however is tearing it up and tied for first place with Mr. Webb Simpson atop the 2011 Greenbrier Classic leader-board after carving out a shape looking 67 on the day to lead the way at -7 overall for the tourney. de Jonge had one boggy on 11 and closed with birdies in two of his final three holes as he appears to be figuring the back-9 out rather smartly. First round leader Trevor Immelman chalked up an even day which saw him maintain his -6 pace good for a solo second place at the mid way point in the 2011 Greenbrier Classic.
Right now there are no less than a whopping 13 golfers within a mere 3 strokes of our very own Mr. de Jonge. So anything can and prolly will happen as moving day dawns on Saturday in the Greenbrier valley and true Championship play beings on Sunday up here at White Sulphur Spring in West "by God" Virginia. Accordingly, I will attempt to fashion some official picks after the third round sorts itself out early Saturday evening.
Saturday update:
That's what I call a very mixed O&M day here in the 3o4 at the 2011 Greenbrier Classic; as Mr. Johnson Wagner continued his top-flight second round play; whereas clubhouse leader after 36 holes, one Mr. Brendon de Jonge, faltered more than a little bit. As Mr. de Jonge was the only player in the Top-16 to finish over par on Saturday afternoon in White Sulphur Springs. Brendon opened up with a birdie on number two and then appeared to come unglued with three bogeys in his next seven holes, including a double-boggy on the fifth hole after a wayward drive cost him a penalty stroke. That said, there is some O&M hope at the bottom of Pandora's Box, as Brandon shot two under par on the less forgiving back-9 to finish at a two over par 72 for Saturday and -5 for the Tournament. That plus the fact that Mr. de Jonge leads the entire P.G.A. Tour in birdies for the 2011 season suggests that he could get hot and make a run of it come Sunday afternoon's championship round.
Also -5 or five shots back of Mr. Anthony (at -10) would be fellow Hokie Johnson Wagner who split the fairways after he got beyond the sixth hole for four birdies on the back-9 after something of an uneven start on the day. Such included two delightful sand-saves and what I'll describe as a conservative tee to fairway or even a G.O.P. fairway to green day of golf. Nothing in and of it self suggested that Mr. Wagner would slice into the 2011 Greenbrier leaderboard after 36 holes of play. However, as both Hokies and the entire Greenbrier field –including Mr. Kim and his truly adroit 62 can all attest; Golf is a game that can and does indeed change for the better, or for the worse, on one single swing of the stick. Accordingly, with 17 golfers within 5 strokes or less of Mr. Kim, go ahead and expect to see some changes on the Sunday leader-board which could very well include a change in the 3o4 weather.
Predictions:
On the one hand you have to hand it to Mr. Kim who went from -2 to -10 in the span of just under five hours of stellar golf. On the other hand you have to wonder out-loud if Mr. Kim has another 62 in him, or even anything close? The curious part to me is that I saw nobody really press Mr. Kim for the lead, as none of the leaders were even within 4 strokes of Mr. Kim's epic play on Saturday. Such has me questioning if anybody can truly run Mr. Kim down come Sunday? Nevertheless, I'ma gonna side with Mother Nature to even things up on Sunday with some rain, wind and thunderstorms in the forecast. Per such, I'm calling for a tie with a three man play-off to follow at the end of 72 holes of competition. With Mr. Kim, Mr. Stallings, and Mr. Simpson all knotted up at or near -14 with Mr. Simpson finally breaking through for his long overdue first Tour win.
Sunday Closer:
From custom fitted snake-skin golf shoes to the signature Greenbrier faucets that both open towards the spigot –think about it. This place is banging and it is time to S.P.F. 55,ooo,000 up and head out to see how much closing game Mr. de Jonge and Mr. Wagner have on a humid, sunny 3o4 Sunday at the 2011 Greenbrier Classic. Hopefully one of them can bang out a quality closing round and get back in the championship hunt.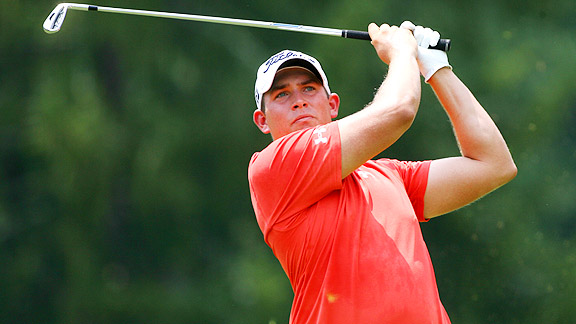 Brendon de Jonge finished second in what was nothing short of a epic rally by 185:1 long-shot Mr. Scott Stallings to win the 2011 Greenbrier Classic in OT thanks to throwing back to back darts from the 18 tee-box after adverting near disaster on no. 17. When he looks back on the 2011 Greenbrier Classic, Brandon may quite possibly lament having left the championship out on the course on Saturday afternoon's front-9. Brandon did rally well on Sunday, he was however one stroke short shy of rallying well enough. Mr. Wagner continued his fine play and quietly though shrewdly fought his way up the Sunday leader-board for a fourth place finish. Not a bad weekend for the O&M in overall strategic terms; just not a good Saturday tactically speaking for Mr. de Jonge.

"LET'S GO!"
"HOKIES!"
b'street