#64 R.P.I.

Virginia Tech

vs.

#48 R.P.I.

Florida State

:
TV coverage: 9:45pm+,
ESPN2

& on

ESPN36o
Vegas Line:
VT

-2,

O

/

U

=129, $-Line:

VT

-123,

F.S.U.

+1o3

Now that's what I humbly and most happily call a gratifying win in the opening round of play of the 2011 men's A.C.C. basketball tournament down in Greensboro North Carolina.

Seth and company lifted themselves up off the o-2 80 minute underwhelming mat otherwise know as Boston College and @ Klempson to give us all something to watch when the Selection Sunday Show airs Sunday night at 6pm on C.B.S. VT is (now) right back where VT always seems to be this time of year – right on the Committee's proverbial bubble after beating Georgia Tech good and hard by the tune of a 59-43 O&M victory on Thursday night to close the 2011 A.C.C. tournament's opening-round of play. Not half bad for a team with one contributor suspended indefinitely, and a star Forward (Jeff Allen) lame and hobbling about after a bad ankle sprain last week.

Neither is 20 wins half bad when you consider the train-wreck of attrition that the 2010-2011 basketball campaign for Virginia Tech has been. Seth may have just carved another A.C.C. Coach of the Year notch in his O&M belt after that stinging good first round win vs. the Yellow-Jackets on Thursday night.

Beating Florida State however is another matter all together. Beating Florida State on a 21 hour turnaround is a tall order indeed; pun very much intended.

(EDITORS NOTE: this preview will be C&P updated as the day rolls along in an attempt to give you something to read; sooner rather than later)

Let's see, tall, taller, tallest; and #1 outta 347 D-1 men's basketball teams in Defensive FG% allowed at a downright strangulating 36.5% for the season! Did I mention the Noles height or the fact that they are #1 in FG% Defense yet? Yup, they don't come much more thrifty and fussy as a defensively driven basketball team goes folks; in fact one can make a very cogent argument that Coach Leonard Hamilton courts the best defensive basketball team in all the land. Read on to see what I mean…

Florida State at a glance:
1st in Defensive FG% allowed (36.5%)!
10th in blocks (5.8)
12th in steals (9.0)
13th in 3-point FG% defense allowed (30.2%)
44th in rebounding margin (+4.4)
311th in turnovers per game (16.0)
Click me for an updated A.C.C. 2011 basketball tourney bracket!
Leading the Seminole way in points 13.8, and boards 7.1, to go along with being second in blocks at 1.6 and first in 3-point% while popping
away at a team best 37.5% clip from range would be one #31, a 6`9" 227 lb. junior year P-F, Mr. Chris Singleton. I don't know about you, though that sure reads like code for being an N.B.A. baller to me. Not to mention the fact that numerous pre-season magazines tabbed Chris as their A.C.C. Defensive player of the Year back in September. As a third year baller Chris has worked hard to expand upon his pure defensive-stopper image, via improving his 3-point stroke by a nifty 8.2% this season and his FT-shooting by an unheard of 18% (now at 67.5% on the year)! That's amazing and that really should make a strong case for Most improved Player in the A.C.C. if Chris keeps this up. Well, if Chris can get back that is — more on that in a second. Now mix in 44% from the floor and a team leading 120 FTA's on the season and you have a first team all-A.C.C. player via a singular all-round game outta Mr. Singleton from where I sit. That, is a very tough match-up for a pretty lame (right ankle) Jeff Allen who is said to only be at about ~70% heath wise for this one; after having just logged 36 grim, gimpy and downright gutty minutes vs. Georgia Tech on Thursday night. However; the real story line here is whether Mr. Singleton will play a single minute on Friday night down in Greensboro in the first place? My sources at court-side suggest that Chris moved, ran, and jumped well enough in yesterdays shoot-around down in the Coliseum. That's Chris dunking a basketball in the above right photo about 30 hours ago.  I did see some TV coverage of this and I can personally tell you that I could not see or detect any version of injury when Chris was warming up. My sources further say that this is now a "game-time decision." Ergo, I will proceed and therefore predict based upon my personal conviction that Chirs will indeed ball tonight in round#2 of the 2011 A.C.C. men's basketball tourney. He is said to be very close to being 100% back "awfully close" is how one F.S.U. source put it to me on Wednesday. That's close enough for me to go ahead and expect Chris to (re)take the A.C.C. big-stage once again tonight after a 27 day injury enforced hiatuses with multiple fractures to his right foot. It should be noted that the right foot is the lesser of two evils for a right-handed shooter in hoops; as it is actually the left foot that servers as the springboard or launching point for nearly all traditional right-handed shots to begin with. Therefore if I am Jeff Allen, or Victor.D., I'm a gonna force Chris to go to his right at all possible times to check-up on just how healed that fractured right-foot truly, madly, deeply is.
If Chris can ball, that not a good match-up; and the rest of the Seminole frontcourt don't match-up much better either folks. Check it out…
Second in scoring (10.1) and the only other Seminole in double-digits in points would be #22, 6`4" 204 lb. senior lead-G Mr. Derwin Kitchen. Derwin is the most versatile back-court Seminole that there is, as I said, 10 points to go with 5.5 boards and a team leading 3.6 assists on 51.4% shooting ain't half bad A.C.C. backcourt work, if you can get it. Derwin may not be epic, yet he is solid and physically strong enough to cause some problems out front. In effect, he is the only Seminole backcourter who can really cause reliable problems out front. #5, 6`10" 240 lb. P-F Bernard James is second in rebounding with 5.6, and first in blocks with 2.3 swats per contest. However it is his offense that has improved since we last saw this low-post defensive stopped as Bernard is now up to 8.3 points a game on sizzling hot 64.2% shooting from the floor. Bernard is a 25 year old U.S. Air Force veteran of the War on Terror fighting in Iraq and was something of a diamond in the proverbial rough heretofore unseen discovery as finds goes as he led the 2008 Armed Forces basketball team to an M.V.P. winning Military Tournament performance three years ago. Thank you for serving Mr. James, God Bless on that.
Another curious case would be one #50, big 7` 250 lb. true-Center Mr. Jon Kreft. Jon is a six month veteran of prison after having been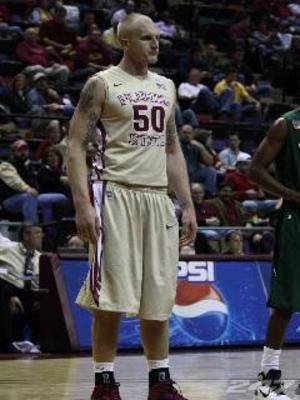 convicted of "drug possession" and is only now making his Seminole debut four years later. Jon –age 25- has paid his civil disobedience dues and is now fully eligible to compete after sitting out the first six games as a JuCo transfer earlier this season. However, Jon's minutes have been limited as he works his way back into shape and back into Coach Hamilton's good graces after having being sat down for the first 9 games this season. Jon has been playing better of late and is coming off of his best game of his troubled F.S.U. career last time out vs. NC.State. Jon easily has the size and physical presence to make O&M life very difficult down on the low-blocks as post-season pressure amps and up and tournament pressure slows down.
Fifth in scoring down in Tallahassee would be #4, 6`5" 196 lb. junior long range sniper, Mr. Delvidas Dulkys. Double-D is said by many to be the best pure shooter in the A.C.C. this year, even if he has been just a tad off by his standards at 7.7 points per game and 34.2% from downtown thus far this season. He's a bit better than that, a good deal better in fact when you consider that the Lithuanian native has been a frigid 1 for 13 since o2.26 after having strung together three straight exciting games before that that seemed to signal that his season long shooting slump had finally been broken. If you need an Tallahassee X-Factor in this one, that persons name surely is Dulkys, as this guy is an extremely streaky shooter who when on has helped open things up down low for the sky-scraping Seminoles while propelling F.S.U. to a 11-1 record when he scores 11 points or more.
Also helping out would be the alleged big-time scorer who has not quite yet broken out as a sophomore D-1 baller goes, one #21, 6`5" 2-Guard Michael Snaer. Michael is netting a third best 8.6 points per game and does lead the F.S.U. rotation at 82% from the FT-Line. Yet his shot selection is pretty liberal as confidence is one thing that Mr. Snaer does not lack — if he is in the gym, he has no doubt that he is open. Florida State does enjoy reasonable bench production with 15 points coming off the Seminole pine, and they do have outstanding substitute size with three guys checking in between 6`8" and 7` in height (including: Jon Kreft). They also have a couple of Wings who are athletic and fast enough to really test our ability to back-pedal near mid-court so go ahead and expect some upcoming attempts at forcing us into an up-tempo contest where 6-man O&M rotation fatigue will be at a premium. Or in other words, this is just not an attractive match-up. All the more so if Allen tweaks that bad ankle or if it has not responded well to Georgia Tech post-game treatment, or if he suddenly gets back into further foul-trouble, or both.
The Wings names would be freshman year #10 6`8" 196 lb. S-F Okaro White who has seen his playing team nearly double since we last saw him back at the beginning of the calendar year on o1.o8. Okaro is another Seminole yo-yo or X-factor if you will, as he has gone for 2, 3, 4, and 6 points in four of his last eight games and then exploded for 52 total points in the other four games. Helping out in the backcourt would be #3 Luke Loucks, a 6`5" 205 lb. off-Guard outta Clearwater who gives Coach Hamilton the option of going mega big one through five if he so desires. On top of that you have 6`11" 233 lb. F-C combo post-player Xavier Gibson. X is a third (Jr.) year baller who gives you 5 points, 4 rebounds and a block in only 15 minutes of play. #15 Terrance Shannon is yet another big checking-in off of Coach Hamilton's bench, as Terrance goes 6`9" and 220 lbs. in his sophomore season of doing work with his very own 5 point, 3 board and 1 block substitute contribution's.
Do you see a pattern here? The patterns are that of a very tall team, as F.S.U. is the longest A.C.C. squad in the Key this season; and try as you might, "you (still) kan't coach height."
Fourm-Guide, conclusion(s) and prediction:
Our handy-dandy friend the Fourm-Guide is curiously enough predicting an 8 point VT win. However, it must be noted that nearly all of that did not include participation via Mr. Singleton and that less than 24 hour turnarounds in single-elimination play are a bit squirrely in and of themselves to begin with. Of further curiosity, rebounding actually favored VT, and the Hokies again got a minor nod on offense; with F.S.U. of course getting their Seminole hand raised for defensive prowess.
Recent 5-game trend(s) analysis was pretty closed to ever across the board. Other than offensive efficiency that favored F.S.U. by 5% from the floor and VT FT-shooting which has been in decline for weeks and currently resides at 65% for our last five contests. In a potentially nip-n-tuck A.C.C. second-round tournament game; we must convert our charity-stripe set-shots if we are to pull the upset in this one. As it is damn tough to score on the #1 FG% defense allowed in all of D-1 hoops to begin with; consequently, we need to take care of our FT-line business when we are handed a 15` uncontested shot on Friday night.
According to my boss Chris Coleman, the VT basketball starters have not played this many minutes in a stunning 16 years of O&M hoops! Andrew Rutledge the 6`6" 200 lb. senior SF hometown walk-on is out for the year with a knee injury. Other than that, F.S.U. is pretty well healthy presuming Singleton is good-to-go and the fact that with Jon Kreft is now back means that F.S.U. can easily go as many as 10 deep in terms of solid D-1 level ballers. That's 10 deep in terms of ten very long D-1 ballers who can board, block or challenge O&M shots.
Loading ...
For my three cents in life, that tells me that should Mr. Singleton indeed return to action tonight; it will be very very very tough for VT to crack 60 points in this one; and 60 could actually be code for having a tough time cracking ole double-nickels or 55 points in the end. On the other hand, if you feel Mr. Singleton and his fractured foot will not play, you are easily much more invited to dabble in picking VT to knock-off the A.C.C. Tourney's third seed late Friday night. This one is all about Mr. Singleton's participating or not in my book. I humbly posit that that is the key to picking this game. As you can see, I am expecting Chris to return to action after 9:30pm tonight.
Saint Peter bless Japan and the victims of the tsunami disaster over there.
Vah.Tech=55, Florida State=68
"LET'S GO!"
"HOKIES!"
b'street